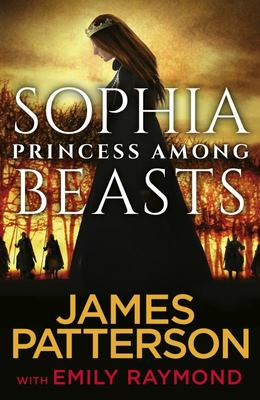 $14.99
AUD
Category: Science and Fantasy
A lush, imaginative fantasy -- with James Patterson's signature suspense and chilling plot twists.   Sophia is smart, beautiful, and accomplished, a beloved princess devoted to the people and to reading books. The kingdom is hers, until she is plunged into a nightmarish realm populated by the awful be asts she read about as a child.   The beasts are real. And so is the great army marching on her castle. The people look to Sophia for protection. They will all perish unless she can unlock an ancient secret as profound as life and death itself.   Sophia, Princess Among Beasts is a fabulous adventure, and a stunning mystery. Here again is proof of why James Patterson is the world's most trusted storyteller. ...Show more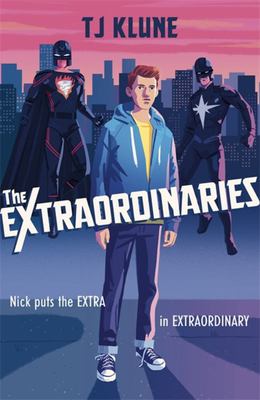 $19.99
AUD
Category: Science and Fantasy | Series: The\Extraordinaries Ser.
In Nova City, there are extraordinary people, capable of feats that defy the imagination. Shadow Star protects the city and manipulates darkness, and Pyro Storm is determined to bring the city to it's knees using his power over fire. And then there's Nick who . . . well, being the most popular fanfictio n writer in the Extraordinaries fandom is a superpower, right? Instead of fighting crime, Nick must contend with a new year at school, a father who doesn't trust him, and a best friend named Seth, who may or may not be the love of Nick's short, uneventful life. It should be enough. But after a chance encounter with Shadow Star, Nova City's mightiest hero (and Nick's biggest crush), Nick sets out to make himself extraordinary. And he'll do it with or without the reluctant help of Seth's help. TJ Klune's YA debut is a queer coming-of-age story about a fanboy with ADHD and the heroes he loves is Rainbow Rowell's Fangirl meets Brandon Sanderson's Steelheart. ...Show more
$27.99
AUD
Category: Science and Fantasy | Series: The Last Hour
From internationally bestselling author Cassandra Clare comes the first novel in a brand new Shadowhunters trilogy. Evil is hiding in plain sight and the only thing more dangerous than fighting demons is falling in love. Cordelia Carstairs is a Shadowhunter, a warrior trained since childhood to battle d emons. When her father is accused of a terrible crime, she and her brother travel to Edwardian London in hopes of preventing the family's ruin. Cordelia's mother wants to marry her off, but Cordelia is determined to be a hero rather than a bride. Soon Cordelia encounters childhood friends James and Lucie Herondale and is drawn into their world of glittering ballrooms, secret assignations, and supernatural salons, where vampires and warlocks mingle with mermaids and magicians. All the while, she must hide her secret love for James, who is sworn to marry someone else.But Cordelia's new life is blown apart when a shocking series of demon attacks devastate London. These monsters are nothing like those Shadowhunters have fought before – these demons walk in daylight, strike down the unwary with incurable poison, and seem impossible to kill. London is immediately quarantined. Trapped in the city, Cordelia and her friends discover that their own connection to an dark legacy has gifted them with incredible powers – and force a brutal choice that will reveal the true cruel price of being a hero. The start of a brand-new and highly anticipated Shadowhunters series. The protagonists are the children of characters from the Infernal Devices series. The fourth series in The Shadowhunter Chronicles, following on from The Mortal Instruments, The Infernal Devices and The Dark Artifices. The Shadowhunter world has captivated 40 million readers worldwide. Rights have been sold in over 30 countries, and the books have made bestseller lists all over the world. ...Show more
$39.99
AUD
Category: Science and Fantasy | Series: The\Firemane Saga Ser.
Hatushaly and his young wife Hava are living a good life, working to reopen the burned-out Inn of the Three Stars in the prosperous trading town of Beran's Hill.But there is a great deal more to this bucolic scene than meets the eye. Both Hatu and Hava were raised on the secret island of Coaltachin, and though they may appear to be no more than a young couple in love, preparing for the midsummer festival where their friends Declan and Gwen will be wed, they are in fact assassins on a mission, waiting instructions from their masters in the Kingdom of Night.Moreover, Hatu is the last remaining member of the ruling family of Ithrace – the legendary Firemanes. He dyes his flaming red hair, and has studied to control his dangerous magical powers. But however hard Hatu may be hiding from all those who would seek to use or to destroy him, fate has other plans.Horrific events are approaching Beran's Hill, bringing death and devastation to the peaceful town as unknown and monstrous forces are unleashed. And nothing will ever be the same again.   ...Show more
$19.99
AUD
Category: Science and Fantasy | Series: Hunger Games Trilogy | Reading Level: very good
Catching Fire, the second book in the New York Times bestselling Hunger Games series, is now available in a deluxe foil edition   Against all odds, Katniss Everdeen has won the annual Hunger Games with fellow district tribute Peeta Mellark. But it was a victory won by defiance of the Capitol and their h arsh rules. Katniss and Peeta should be happy. After all, they have just won for themselves and their families a life of safety and plenty. But there are rumors of rebellion among the subjects, and Katniss and Peeta, to their horror, are the faces of that rebellion. The Capitol is angry. The Capitol wants revenge. ...Show more
$19.99
AUD
Category: Science and Fantasy | Series: Throne of Glass
Aelin Galathynius's journey from slave to assassin to queen reaches its heart-rending finale as war erupts across her world ... She has risked everything to save her people - but at a tremendous cost. Locked in an iron coffin by the Queen of the Fae, Aelin must draw upon her fiery will to endure the mon ths of torture inflicted upon her. The knowledge that yielding to Maeve will doom those she loves keeps her from breaking, but her resolve is unravelling with each passing day... With Aelin imprisoned, Aedion and Lysandra are the last line of defence keeping Terrasen from utter destruction. But even the many allies they've gathered to battle Erawan's hordes might not be enough to save the kingdom. Scattered throughout the continent and racing against time, Chaol, Manon, and Dorian must forge their own paths to meet their destinies. And across the sea Rowan hunts to find his captured wife and queen - before she is lost to him. Some bonds will deepen and others be severed forever, but as the threads of fate weave together at last, all must fight if they are to find salvation - and a better world. Years in the making, Kingdom of Ash is the unforgettable conclusion to Sarah J. Maas's #1 New York Times bestselling Throne of Glass series ...Show more
$22.99
AUD
Category: Science and Fantasy | Series: Fitz and the Fool Ser. | Reading Level: very good
NEW YORK TIMES BESTSELLER - The stunning conclusion to Robin Hobb's Fitz and the Fool trilogy, which began with Fool's Assassin and Fool's Quest   "Every new Robin Hobb novel is a cause for celebration. Along with millions of her other fans, I delight in every visit to the Six Duchies, the Rain Wilds, a nd the Out Islands, and can't wait to see where she'll take me next."--George R. R. Martin   More than twenty years ago, the first epic fantasy novel featuring FitzChivalry Farseer and his mysterious, often maddening friend the Fool struck like a bolt of brilliant lightning. Now New York Times bestselling author Robin Hobb brings to a momentous close the third trilogy featuring these beloved characters in a novel of unsurpassed artistry that is sure to endure as one of the great masterworks of the genre.   Fitz's young daughter, Bee, has been kidnapped by the Servants, a secret society whose members not only dream of possible futures but use their prophecies to add to their wealth and influence. Bee plays a crucial part in these dreams--but just what part remains uncertain.   As Bee is dragged by her sadistic captors across half the world, Fitz and the Fool, believing her dead, embark on a mission of revenge that will take them to the distant island where the Servants reside--a place the Fool once called home and later called prison. It was a hell the Fool escaped, maimed and blinded, swearing never to return.   For all his injuries, however, the Fool is not as helpless as he seems. He is a dreamer too, able to shape the future. And though Fitz is no longer the peerless assassin of his youth, he remains a man to be reckoned with--deadly with blades and poison, and adept in Farseer magic. And their goal is simple: to make sure not a single Servant survives their scourge. ...Show more
$32.99
AUD
Category: Science and Fantasy
FROM THE #1 BESTSELLING AUTHOR OF WORLD WAR Z ______________________________________ As the ash and chaos from Mount Rainier's eruption swirled and finally settled, the story of the Greenloop massacre has passed unnoticed, unexamined . . . until now. But the journals of resident Kate Holland, recovered from the town's bloody wreckage, capture a tale too harrowing - and too earth-shattering in its implications - to be forgotten. In these pages, Max Brooks brings Kate's extraordinary account to light for the first time, faithfully reproducing her words alongside his own extensive investigations into the massacre and the beasts behind it, once thought legendary but now known to be terrifyingly real. Kate's is a tale of unexpected strength and resilience, of humanity's defiance in the face of a terrible predator's gaze, and inevitably, of savagery and death. Yet it is also far more than that. Because if what Kate Holland saw in those days is real, then we must accept the impossible. We must accept that the creature known as Bigfoot walks among us - and that it is a beast of terrible strength and ferocity. Part survival narrative, part bloody horror tale, part scientific journey into the boundaries between truth and fiction, this is a Bigfoot story as only Max Brooks could chronicle it - and like none you've ever read before. ______________________________________ 'Devolution is one of the greatest horror novels I've ever read. The characters soar, the ideas sing, and it's all going to scare the living daylights out of you.' Blake Crouch, author of Dark Matter and Recursion 'Devolution is spell binding. It is a horror story about how anyone, especially those who think they are above it, can slowly devolve into primal, instinctual behaviour. I was gripped from the first page to the last!'Les Stroud, creator of Survivorman   ...Show more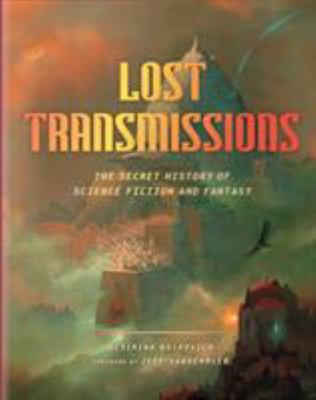 $45.00
AUD
Category: Science and Fantasy
A fascinating illustrated history of lost, overlooked and uncompleted works of science fiction and fantasy. Science fiction and fantasy reign over popular culture now. Lost Transmissions is a rich trove of forgotten and unknown, imagined-but-never-finished, and under-appreciated-but-influential works fr om those imaginative genres, as well as little-known information about well-known properties. Divided into sections on Film & TV, Literature, Art, Music, Fashion, Architecture, and Pop Culture, the book examines Jules Verne's lost novel; AfroFuturism and Space Disco; E.T.'s scary beginnings; William Gibson's never-filmed Aliens sequel; Weezer's never-made space opera; and the 8,000-page metaphysical diary of Philip K. Dick. Featuring more than 150 photos, this insightful volume will become the bible of science fiction and fantasy's most interesting and least-known chapters. ...Show more
$23.99
AUD
Category: Science and Fantasy | Series: PASSAGE SERIES | Reading Level: very good
#1 NEW YORK TIMES BESTSELLER - "A thrilling finale to a trilogy that will stand as one of the great achievements in American fantasy fiction."--Stephen King   You followed The Passage. You faced The Twelve. Now enter The City of Mirrors for the final reckoning. As the bestselling epic races to its bre athtaking finale, Justin Cronin's band of hardened survivors await the second coming of unspeakable darkness.   The world we knew is gone. What world will rise in its place?   The Twelve have been destroyed and the terrifying hundred-year reign of darkness that descended upon the world has ended. The survivors are stepping outside their walls, determined to build society anew--and daring to dream of a hopeful future.   But far from them, in a dead metropolis, he waits: Zero. The First. Father of the Twelve. The anguish that shattered his human life haunts him, and the hatred spawned by his transformation burns bright. His fury will be quenched only when he destroys Amy--humanity's only hope, the Girl from Nowhere who grew up to rise against him.   One last time light and dark will clash, and at last Amy and her friends will know their fate.   Look for the entire Passage trilogy: THE PASSAGE - THE TWELVE - THE CITY OF MIRRORS   Praise for The City of Mirrors"Compulsively readable."--The New York Times Book Review   "The City of Mirrors is poetry. Thrilling in every way it has to be, but poetry just the same . . . The writing is sumptuous, the language lovely, even when the action itself is dark and violent."--The Huffington Post   "This really is the big event you've been waiting for . . . A true last stand that builds and comes with a bloody, roaring payoff you won't see coming, then builds again to the big face off you've been waiting for."--NPR   "A masterpiece . . . with The City of Mirrors, the third volume in The Passage trilogy, Justin Cronin puts paid to what may well be the finest post-apocalyptic epic in our dystopian-glutted times. A stunning achievement by virtually every measure."--The National Post "Justin Cronin's Passage trilogy is remarkable for the unremitting drive of its narrative, for the breathtaking sweep of its imagined future, and for the clear lucidity of its language."--Stephen King ...Show more
$19.99
AUD
Category: Science and Fantasy | Series: The\Demon Cycle Ser.
New York Times bestselling author Peter V. Brett brings one of the most imaginative fantasy sagas of the twenty-first century to an epic close.   For time out of mind, bloodthirsty demons have stalked the night, culling the human race to scattered remnants dependent on half-forgotten magics to protect them. Then two heroes arose--men as close as brothers, yet divided by bitter betrayal. Arlen Bales became known as the Warded Man, tattooed head to toe with powerful magic symbols that enable him to fight demons in hand-to-hand combat--and emerge victorious. Jardir, armed with magically warded weapons, called himself the Deliverer, a figure prophesied to unite humanity and lead them to triumph in Sharak Ka--the final war against demonkind.   But in their efforts to bring the war to the demons, Arlen and Jardir have set something in motion that may prove the end of everything they hold dear--a swarm. Now the war is at hand, and humanity cannot hope to win it unless Arlen and Jardir, with the help of Arlen's wife, Renna, can bend a captured demon prince to their will and force the devious creature to lead them to the Core, where the Mother of Demons breeds an inexhaustible army.   Trusting their closest confidantes, Leesha, Inevera, Ragen, and Elissa, to rally the fractious people of the Free Cities and lead them against the swarm, Arlen, Renna, and Jardir set out on a desperate quest into the darkest depths of evil--from which none of them expects to return alive.   Look for Peter V. Brett's complete Demon Cycle: THE WARDED MAN - THE DESERT SPEAR - THE DAYLIGHT WAR - THE SKULL THRONE - THE CORE   Praise for The Core   "Thoroughly addicting . . . a thrilling adventure that is, without question, Brett's] greatest achievement yet."--Bookreporter   "Rewarding . . . Congratulations to Peter Brett on completing a fantastic series."--SFFWorld ...Show more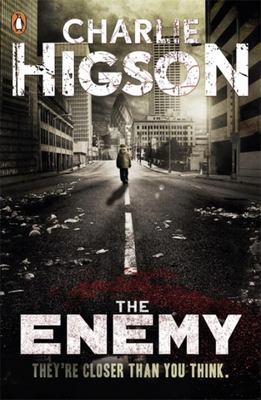 $19.99
AUD
Category: Science and Fantasy | Series: The Enemy
They'll chase you. They'll rip you open. They'll feed on you . . . When the sickness came, every parent, policeman, politician - every adult fell ill. The lucky ones died. The others are crazed, confused and hungry. Only children under fourteen remain, and they're fighting to survive. Now there are r umours of a safe place to hide. And so a gang of children begin their quest across London, where all through the city - down alleyways, in deserted houses, underground - the grown-ups lie in wait. But can they make it there - alive? Visitthe-enemy.co.ukfor more gore . . . ...Show more