$34.99
AUD
Category: Cooking Food and Wine
In the late 1990s, John Baker was known as a purveyor of quality rare and old wines. Always entrepreneurial and up for adventure, John was the perfect person for an occasional business partner, Andrew Simon, to approach with a mysterious wine list that was foreign to anything John, or his second-in-comm and, Kevin Hopko, had ever come across. The list was discovered to be a comprehensive catalogue of the wine collection of Nicholas II, the last Czar of Russia. The wine had become the property of the state after the Russian Revolution of 1918, during which Nicholas and his entire family were executed. Now owned by Stalin, the wine was discretely removed to a remote Georgian winery when Stalin was concerned the advancing Nazi army might overrun Russia, and inevitably loot artefacts and treasures. Half a century later, the wine was rumoured to be hidden underground and off any known map. John and Kevin embarked on an audacious, colourful and potentially dangerous journey to Georgia to discover if the wines actually existed; if the bottles were authentic and whether the entire collection could be bought and transported to a major London auction house for sale. Stalin's Wine Cellar is a wild, sometimes rough ride in the glamorous world of high end wine. The cast of characters include Stalin, Hitler, Czar Nicholas II and a motley bunch of Georgian businessmen/cowboys toting handguns, in the early days of Russian business development that led to the world of Putin and oligarchs.   ...Show more
$55.00
AUD
Category: Cooking Food and Wine
Everything you love about Ottolenghi, made simple. Yotam Ottolenghi's award-winning recipes are always a celebration; an unforgettable combination of abundance, taste and surprise. Ottolenghi SIMPLE is no different, with 130 brand-new dishes that contain all the inventive elements and flavour combinatio ns that Ottolenghi is loved for, but with minimal hassle for maximum joy. Bursting with colourful photography, Ottolenghi SIMPLE showcases Yotam's standout dishes that will suit whatever type of cooking you find easy - whether that's getting wonderful food on the table in under 30 minutes, using just one pot to make a delicious meal, or a flavoursome dish that can be prepared ahead and then served when you're ready.  These brilliant, flavour-forward dishes are all SIMPLE in at least one (but very often more than one) way: S - short on time: less than 30 minutes, I - 10 ingredients or less, M - make ahead, P - pantry, L - lazy, E - easier than you think. Ottolenghi SIMPLE is the stunning new cookbook we have all been wishing for - Yotam Ottolenghi's vibrant food made easy.   ...Show more
$34.99
AUD
Category: Cooking Food and Wine
Kids love to cook. It's creative, they can make a mess without getting into trouble, and best of all they get to eat the yummy food they've made. These easy-to-make recipes will have aspiring young chefs bursting to get into the kitchen to whip upsomething delicious to eat. This book will show kids how to make simple breakfasts, snacks, lunches and dinners for the family, and cakes, biscuits and desserts, too. ...Show more
$55.00
AUD
Category: Cooking Food and Wine | Reading Level: 5 Cooking
Winner fo the James Beard Book fo the Year Award 2020.   We all want to eat more fish, but who wants to bother spending the time, effort and money cooking that same old salmon fillet on repeat when you could be trying something new and utterly delicious? In The Whole Fish Cookbook, Australia's groundbre aking seafood chef Josh Niland reveals a completely new way to think about all aspects of fish cookery. From sourcing and butchering to dry ageing and curing, it challenges everything we thought we knew about the subject and invites readers to see fish for what it really is - an amazing, complex source of protein that can and should be treated with exactly the same nose-to-tail reverence as meat.   Featuring more than 60 recipes for dozens of fish species ranging from Smoked Marlin Ham Caesar Salad, Fish Cassoulet and Roast Fish Bone Marrow to - essentially - the The Perfect Fish and Chips, The Whole Fish Cookbook will soon have readers seeing that there is so much more to a fish than just the fillet and that it is indeed true what they say about there being more than just a handful of fish in the sea. ...Show more
$55.00
AUD
Category: Cooking Food and Wine
Flavour-forward, vegetable-based recipes are at the heart of Yotam Ottolenghi's food. In this stunning new cookbook Yotam and co-writer Ixta Belfrage break down the three factors that create flavour and offer innovative vegetable dishes that deliver brand-new ingredient combinations to excite and inspir e. Ottolenghi FLAVOUR combines simple recipes for weeknights, low effort-high impact dishes, and standout meals for the relaxed cook. Packed with signature colourful photography, FLAVOUR not only inspires us with what to cook, but how flavour is dialled up and why it works. The book is broken down into three parts, which reveal how to tap into the potential of ordinary vegetables to create extraordinary food: Process explains cooking methods that elevate veg to great heights; Pairing identifies four basic pairings that are fundamental to great flavour; Produce offers impactful vegetables that do the work for you. With surefire hits, such as Aubergine Dumplings alla Parmigiana, Hasselback Beetroot with Lime Leaf Butter, Miso Butter Onions, Spicy Mushroom Lasagne and Romano Pepper Schnitzel, plus mouthwatering photographs of nearly every one of the more than 100 recipes, Ottolenghi FLAVOUR is the impactful, next-level approach to vegetable cooking that Ottolenghi fans and vegetable lovers everywhere have been craving.     ...Show more
A Moveable Feast 2e
by Lonely Planet Food Staff; Anthony Bourdain; Matthew Fort; Stefan Gates; Don George; Mark Kurlansky; David Lebovitz; Matt Preston; Andrew Zimmern
$24.99
AUD
Category: Lonely Planet | Series: Lonely Planet Travel Literature Ser.
Lonely Planet: The world's leading travel guide publisher* Life-changing food adventures around the world. From bat on the island of Fais to chicken on a Russian train to barbecue in the American heartland, from mutton in Mongolia to couscous in Morocco to tacos in Tijuana - on the road, food nourishe s us not only physically, but intellectually, emotionally, and spiritually too. It can be a gift that enables a traveller to survive, a doorway into the heart of a tribe, or a thread that weaves an indelible tie; it can be awful or ambrosial - and sometimes both at the same time. Celebrate the riches and revelations of food with this 38-course feast of true tales set around the world. Features stories by Anthony Bourdain, Andrew Zimmern, Mark Kurlansky, Matt Preston, Simon Winchester, Stefan Gates, David Lebovitz, Matthew Fort, Tim Cahill, Jan Morris and Pico Iyer. Edited by Don George. About Lonely Planet: Started in 1973, Lonely Planet has become the world's leading travel guide publisher with guidebooks to every destination on the planet, as well as an award-winning website, a suite of mobile and digital travel products, and a dedicated traveller community. Lonely Planet's mission is to enable curious travellers to experience the world and to truly get to the heart of the places where they travel. TripAdvisor Travellers' Choice Awards 2012 and 2013 winner in Favorite Travel Guide category 'Lonely Planet guides are, quite simply, like no other.' - New York Times 'Lonely Planet. It's on everyone's bookshelves; it's in every traveller's hands. It's on mobile phones. It's on the Internet. It's everywhere, and it's telling entire generations of people how to travel the world.' - Fairfax Media (Australia) *#1 in the world market share - source: Nielsen Bookscan. Australia, UK and USA. March 2012-January 2013 ...Show more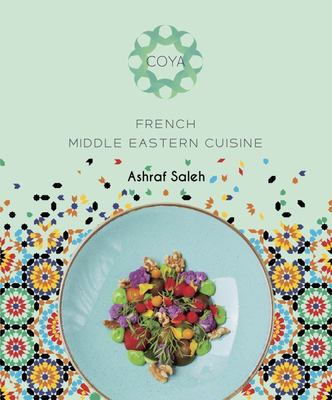 $39.99
AUD
Category: Cooking Food and Wine
Chef Ashraf Saleh is a self-described gastronomic traveller. He has been inspired by the food of the world, combining his characteristic ingredients with the best market produce to develop his delicious signature dishes and recipes. In Coya, Ashraf Saleh shares his knowledge and passion using spic es and herbs from the Middle East combining them with the best ingredients from the West to produce inspiring recipes to tempt all gastronomic palates. This cookbook showcases many popular dishes from Coya, Ashraf 's first restaurant highlighting the diversity that is present when two cultures meet to create delicious food ...Show more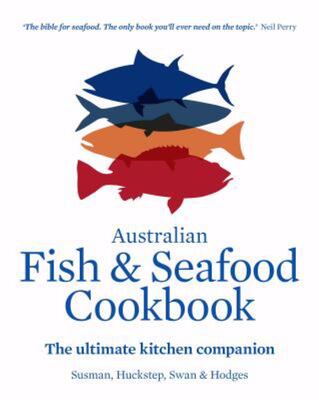 $79.99
AUD
Category: Cooking Food and Wine
The definitive culinary guide to the fish and seafood of Australia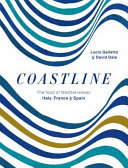 $49.99
AUD
Category: Cooking Food and Wine
Recipes and stories from the stunning Mediterranean coastline for the perfect pesto, the best bouillabaisse, the purest paella.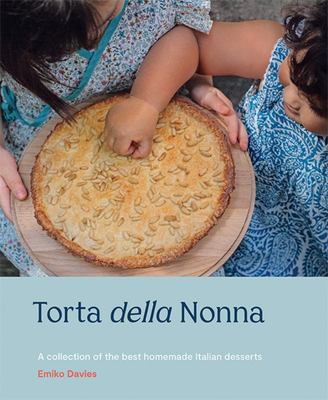 $34.99
AUD
Category: Cooking Food and Wine
Torta della Nonna brings together the best Italian sweets recipes from Emiko Davies' books, Florentine, Acquacotta, and Tortellini at Midnight, plus five brand new recipes. Across eight chapters, this stunning collection features classic well-known recipes, as well as family recipes passed from generat ion to generation. Recipes include sweet Italian breakfasts (including Lemon and ricotta cake, Italian brioche croissants, and Little custard and quince jam pies); classic treats from nonna's oven (Hazelnut cake, Chocolate and amaretti flan, Stuffed peaches); snacks (Rosemary and sultana buns, Sweet breadsticks, Strawberries and wine); biscuits (Red crown biscuits, Almond biscotti, Polenta biscuits); recipes for celebrations (Florentine cake; Honey and nut pastries; Chocolate-filled sponge roll); treats to eat with a spoon (Baked rice pudding; Coffee-laced ricotta; Zuppa Inglese); frozen treats (Milk gelato; Plum sorbet; Gianduia semifreddo); and five essentials any Italian cook needs up their sleeve. Full of beautiful photographs, all shot in Italy, and Emiko's evocative words,Torta della Nonna will bring the sweet tastes and romance of Italy into your home.   ...Show more
$35.99
AUD
Category: Cooking Food and Wine
PLANT-BASED DELICIOUSNESS 100 all-new quick and easy plant-based recipes by bestselling author Ella Mills, founder of Deliciously Ella. Ella's new collection shows us that vegan cooking doesn't have to be difficult or time-consuming. It's easy to embrace a plant-based lifestyle with her fuss-free, sim ple recipes that cater for our busy lives. Divided into 7 sections, the new book offers - for the first time - recipes with an approximate cooking time, showing you how to make simple meals that will satisfy your taste buds and inspire you every day. Section 1 features delicious breakfasts - from quick pancakes to fruity smoothies and easy toast-toppers. Section 2, Lunches, Dips & Dressings, offers an array of healthy plant-based options. The next two Sections comprise 10-Minute- and 20-Minute Meals, where Ella will prove that plant-based eating doesn't have to be complicated or time-consuming. Choose from quick pasta dishes, simple noodles, hearty veg-laden bowls and Asian-inspired plates. Section 5 is Big Batch Cooking, to help you get ahead and plan your week. The Sweet section includes lots of portable bars, flapjacks and slices to satisfy your sweet tooth. The last section, Weekend, features recipes that require a bit time to make, but will impress and delight your friends and family! The ethos of Deliciously Ella is to share abundant recipes that put fruit and vegetables at the heart of our plates, that taste good and are easy to make. Alongside this, Ella is keen to embrace all aspects of wellbeing, prioritising self-care. In the book she will share the important insights learned from her chart-topping podcast, bringing a wider holistic dimension and personal angle to this gorgeous, inspiring, healthy cookbook. 'She has become the biggest thing in healthy eating' - The Times ...Show more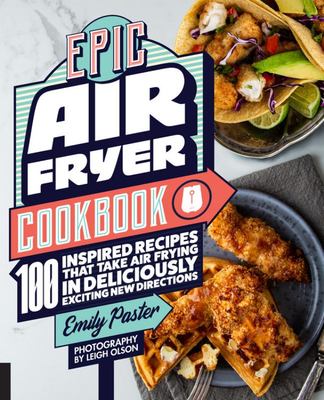 $24.99
AUD
Category: Cooking Food and Wine
The Epic Air Fryer Cookbook serves up everything you love about air frying in 100 easy everyday recipes that turn out scrumptiously crispy, family-friendly meals. With your air fryer, you can enjoy cooking and eating delicious fried foods guilt-free--because air-frying recipes use little or no oil. And , as author Emily Paster reveals, your air fryer can cook all kinds of dishes beyond fried foods. Turn your air fryer into the most versatile and oft-used appliance in your kitchen arsenal with: Globally inspired recipes, from fritters and fritattas to shakshuka and falafel, plus Teriyaki Glazed Ribs, Sicilian Stuffed Peppers, General Tso's Chicken, and lots more Homey and robust fried foods, like spring rolls, buttermilk fried chicken, and country-fried steak Breakfasts and brunches Appetizers, snacks, and party food Desserts, such as Apple Turnovers, Caramelized Peach Shortcakes, Churros with Chocolate Dipping Sauce, and Lemon-Lavender Doughnuts All the recipes in The Epic Air Fryer Cookbook use easy-to-find ingredients and feature short prep times and fast cook times. For air-frying rookies, there are ample tips for getting started with your air fryer and for using and maintaining it--no matter what make or model you own--as you enjoy cooking with it in the years to come. Cooking with your air fryer has never been more healthy, more fun...or more epic! ...Show more